Miss Straw Berry Shake creates a stir on my FB-page!
The other day I was cleaning and organizing my craft supplies. Sometimes I store objects I don't know what to make with them at the moment or whether I ever going to use them. But you'll never know, right!?!
I like to combine crafts and crochet, as you can see in my creations such as my Jumping Jacks, Pig in Space and Flowerpot House of Mole and Mouse.
I like all jars, cups, especially if they have a lid on them. My grandmother always saved and reused her yogurt cups, so it must be running in the family, haha!
I was with my son at McDonalds a while ago and I took the milkshake cup home with me. I also saved a clean box of a hamburger (but that doesn't matter right now!). At that time I didn't know what to do with the milkshake cup.
When I was cleaning and organizing I came across that milkshake cup again. Immediately I knew that I was going to make my version of a milkshake: Strawberry Milkshake. Complete with a straw that would stick out of her head and the lid on top of her head.
That idea was so prominent that I had to start to create her immediately. But if you put Miss Shake in a McDonalds cup, you cannot see her body. Luckily there are transparent cups as well.
I love to decoupage with napkins as well. I have lots of napkins! I bought some paper cups and nice looking paper straws. I painted some cups white and glued the napkins on the cups. I am very happy with the result!
Topfans
I saw the idea of giving something to Topfans at an American collgue designer. She gives Topfans a pattern of their choice. But I wanted to make a special Topfan pattern.
Now you should know that Facebook invented "Topfans". They probably use an algorithm for it. Business pages, such as mine, can choose to use Topfan badges or not. But who doesn't like Topfans? If you regularly post a comment at my posts then you get a Topfan badge offered. You have to accept the badge, but you can also refuse it.
When I announced the pattern of Miss Straw Berry Shake on my FB-page, I mentioned that this pattern would be for free for my Topfans. Not everybody knows what a "Topfan" is and I received lots of comments on my post! All really nice messages, if all of you keep on commenting on my post, just the way you do, I will have a lot of Topfans in no time! As soon as you are a Topfan you will receive the pattern of Miss Straw Berry Shake and I hope you will stay a (Top)fan!
The pattern of Miss Straw Berry Shake is also for sale. On Etsy & Ravelry as well.
Miss Melon Shake & Miss Cappuccino
But you don't have to make a Straw Berry Shake, what about Miss Melon Shake, made by Martine or Miss Cappuccino, made by Marion. There are many more variations to come up with.
The whipped cream of Miss Cappuccino was made by Marion as follows: Chain of 50CH, 2SC in every CH (100), 2SC in every SC (200)
Free patterns of the melon slice and the chocolate pastry can be found here: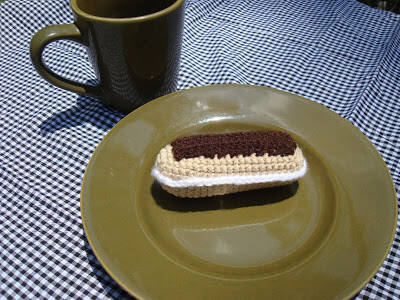 Do you have more ideas to make a shake? Leave a comment and tell about it!